In Memoriam: Margaret Davidson
Remembering a trail-blazing and visionary leader in coastal resource management issues
Margaret A. Davidson passed away in Charleston, South Carolina, on 23 May 2017. Margaret was a hard-working, trail-blazing, and visionary leader in coastal resource management issues. She will be remembered for her passion and achievements toward sustainable management of coastal resources, as well as for her incredible generosity with and support for the people within the global coastal resources community.
Margaret earned her juris doctorate from Louisiana State University and a master's degree in marine policy and resource economics from the University of Rhode Island (URI). She joined the National Oceanic and Atmospheric Administration (NOAA) as the founding Director of NOAA's Coastal Services Center (CSC), where she created a customer-driven organization that accelerated the use of technology, tools, and skills required to make informed coastal economic development and ecosystem management decisions at all levels of government. She then served as acting director of the Office for Ocean and Coastal Resources Management when that office and CSC merged to form the new Office for Coastal Management. As the reorganization received official approval, Ms. Davidson took on the challenge of establishing a newly created position as the NOAA Senior Leader for Coastal Inundation and Resilience. Previously, Margaret served as special counsel and assistant attorney general for the Louisiana Department of Justice and as the executive director of the South Carolina Sea Grant Consortium. Margaret also served as the acting assistant administrator for NOAA's National Ocean Service from 2000 to 2002. During her illustrious career, Margaret was a Fulbright Fellow, American Meteorological Society Fellow, Gilbert White Fellow, and Zurich Fellow for Climate Adaptation.
Margaret served on numerous local, state, and federal committees and provided leadership for national professional societies. She focused her professional work on environmentally sustainable coastal development practices, the reduction of risk associated with extreme events, and climate adaptation.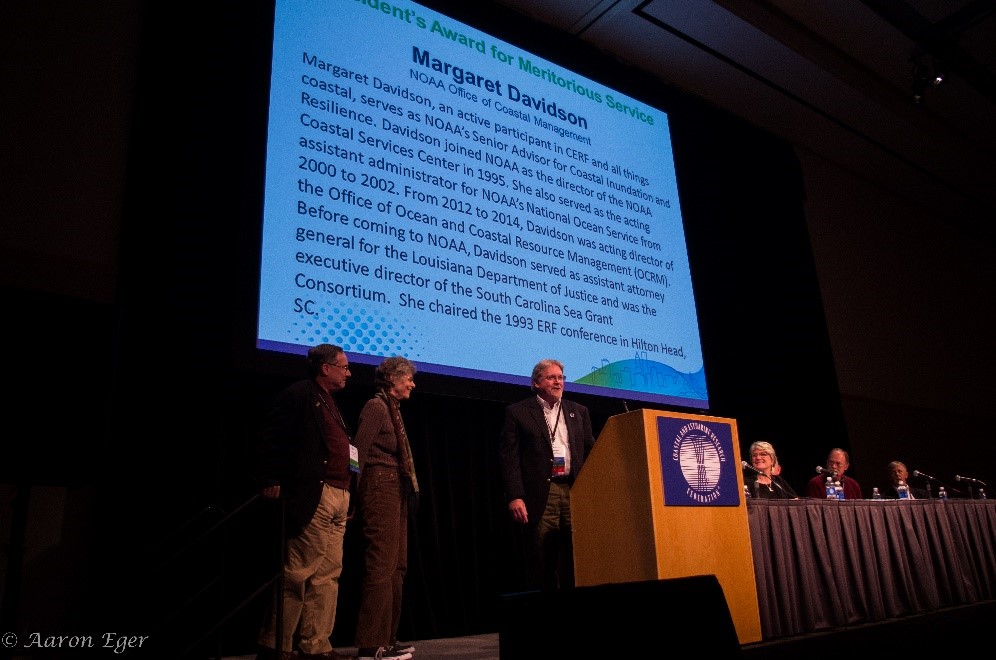 Margaret was an active CERF member; she co-chaired the 1993 ERF conference in Hilton Head, SC, and most recently was a plenary speaker at the 23rd Biennial Conference in Portland, where she gave an engaging talk entitled, "Searching for the Unicorn: Science and Decision Making on Sea Level Rise and other Non-Controversial Issues." CERF recently established the Margaret A. Davidson Stewardship Award to honor Margaret's distinguished career in coastal resource management and her support of the application of science to the wise stewardship of estuaries and coasts. The award recognizes an individual that demonstrates extraordinary leadership, service, innovation, and commitment to the management of estuarine and coastal systems; the first Davidson award will be presented at the 24th Biennial Conference in Providence, Rhode Island, in November of 2017. Her obituary noted that, "her greatest honor was the Margaret A. Davidson Stewardship Award, with the Coastal Estuarine Research Federation."
The coastal community has been sharing remembrances of Margaret
and her role in the field.
CERF President Robert Twilley (photo below) noted: "Margaret shaped and led a vision, with a unique style, of how institutions should truly practice the interdisciplinary skills of art and science concerning the stark realities of living and working on the coast."
Rick DeVoe, Executive Director of the South Carolina Sea Grant Consortium and co-chair of the 1993 ERF with Margaret, wrote "I met Margaret in graduate school (at URI) in 1979, and I knew very soon thereafter that I had met a truly exceptional person, one who I consider to be the most influential person in my professional life. I will truly miss her unique style and smarts, and her passion and compassion. They'll be no other like her."
Denise Reed, Vice President for Strategic Research Initiatives at The Water Institute of the Gulf, remembers that "for over 20 years, Margaret kept my nose to the grindstone on promoting the use of science in coastal decision making with her energy, wit, devotion to the cause and sometimes by just calling me out. Her spirited contributions to Louisiana coastal restoration kept us on track over the years. She was one of the few people I know who successfully weaved the local community scale of coastal risk and the global scale of climate change threats into an action agenda – one that we all now need to carry through because we know she was so right."
She will be greatly missed by the coastal community. If you have remembrances you would like to share, please send them to Susan Park at [email protected].
Share this post: